Soundwalk in Bronzeville on September 12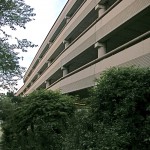 You are invited to join the World Listening Project in a soundwalk around the Michael Reese Hospital campus on Saturday, September 12 (10 a.m.-11 a.m.).
Soundmarks during this soundwalk will include the chainlink fence along the perimeter of the Michael Reese Hospital campus; the wind in the trees in front of the Singer Pavilion; a security guard's car tires rolling over gravel on the MRH campus; traffic on Lake Shore Drive; demolition and earthmoving equipment being operated at MRH; bikers, pedestrians, and automobile drivers/passengers on the streets by MRH; and trains traveling the north-south tracks (between MRH and LSD).
This soundwalk will start on the northwest corner of 31st St. and Cottage Grove Dr. We will walk along the fenced-in perimeter of the MRH campus in a clockwise direction, and then we will turn around and return to the soundwalk's starting point. This soundwalk is free and open to the public; it is being organized by Chad Clark, Jennifer Mosier, Norman Long, Eric Leonardson, and Dan Godston.
The significance of a soundwalk around the MHR campus lies in the tragic loss of most of its landscape and buildings. Walter Gropius, the Bauhaus founder and one of the Twentieth Century's most renowned architects played a major role in the conception and design of these buildings.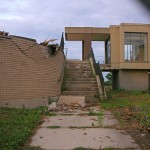 In order for the city of Chicago make its bid to host the 2016 Olympics, it decided that this historic architectural treasure should be demolished to make way for a proposed Olympic Village. On July 30th, two months before a host city would be chosen by the IOC, a major portion of the 600-plus trees and ground cover were cut down—trees that had been growing on the 37-acre site since the late-40s/early-50s.
Photos documenting the before after can be seen on the Gropius in Chicago Coalition's website. We do not know of any field recordings that document the loss suffered by the natural habitat, but it is safe to assume the damage to the biophony or natural soundscape renders it nearly devoid most of the birds and other animals. (Some residents have complained of an increased presence of rats.)
Now the MRH campus is exposed and immersed in the acoustic smog of train, plane, car, and truck traffic. In a few areas the low berms and remaining trees that are part of the landscaping by Sasaki and Collins, people and wildlife can find a shield against the all-pervasive noise. The soundmarks listed above will likely require close proximity or careful concentration to be heard well.
This earlier MSAE post addresses the loss of the MRH campus landscaping: https://mwsae.org/?p=302
View Michael Reese Hospital in a larger map
---