Listening Is the Other Half of How We Know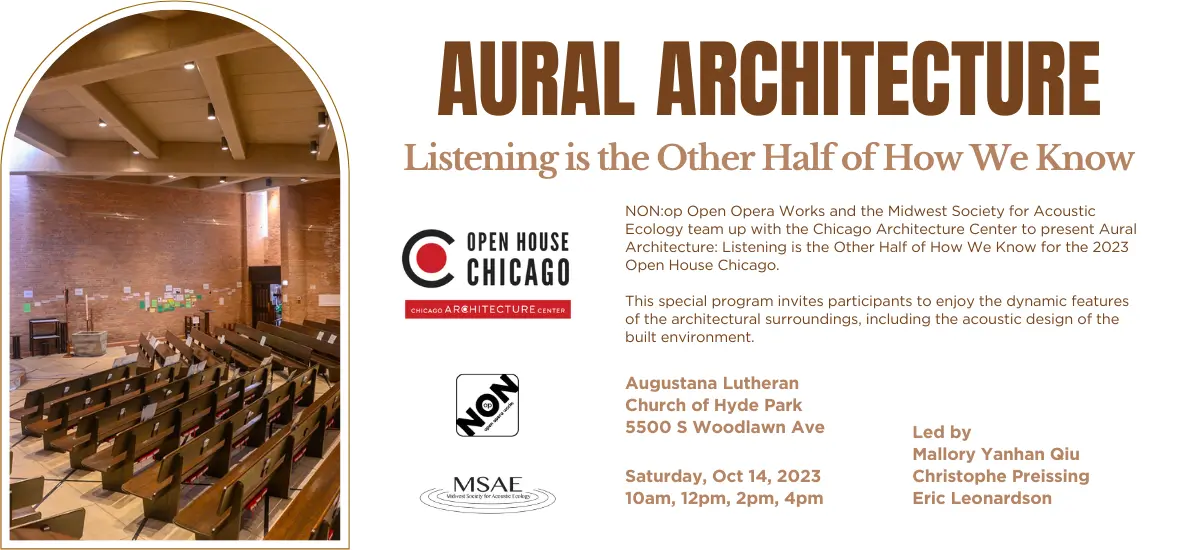 Join us on Saturday, October 14 for Open House Chicago, a citywide architectural festival.
NON:op Open Opera Works and the Midwest Society for Acoustic Ecology (MSAE) team up with the Chicago Architecture Center to reveal its acoustic dimensions in Aural Architecture: Listening is the Other Half of How We Know.
MSAE members Mallory Yanhan Qiu, Christophe Preissing, and Eric Leonardson provide this special program for you to enjoy the dynamic features of the architectural surroundings as an auditory experience of the built environment.
Saturday, October 14
10am, 12pm, 2pm, 4pm
Augustana Lutheran Church of Hyde Park
5500 S Woodlawn Avenue
Chicago Illinois 60637
Completed in 1968, Augustana Lutheran Church is a large, austere space for worship and community in Hyde Park, near the University of Chicago. It was designed by the distinguished Chicago architect Edward D. Dart (1922 – 1975).
Sound and listening reveal the complex ways in which systems and intentions manifest across social, aesthetic, and scientific concerns. Since 2018, the Midwest Society for Acoustic Ecology and NON:op Open Opera Works partner to raise awareness of the special relationship that the design and construction of our homes, offices, sacred spaces, and all other places serve our intentions. Through an "ear-minded" approach, i.e., acoustic ecology, we try to understand how acoustic design will help.
Open House Chicago (OHC) is a free annual festival hosted by the Chicago Architecture Center that offers behind-the-scenes access to buildings of architectural, cultural and historical significance during one weekend in October.
---