Proceedings of Invisible Places | Sounding Cities 2014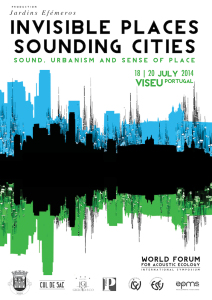 It is now possible to download the 812-page proceedings from the 2014 Invisible Places | Sounding Cities symposium at http://invisibleplaces.org/IP2014.pdf.
A city is a place of diversities. Its rhythms are sometimes contrapuntal, sometimes synchronous. We live in a city of multiple destinations and routes—spaces populated by sounds, smells, gestures, visions, exchanges, encounters, and feelings. We have a better a city experience with all the senses awakened. However, modern cities have been designed, built and determined by visual aesthetics. A strict regime of the visual limits the innately diverse ways we sense and communicate with our home and the world.
Invisible Places | Sounding Cities has two goals: a symposium on sound, urbanism and sense of place endorsed by the World Forum for Acoustic Ecology and an exhibition of artistic events that aims to bring art and science to the streets. It is integrated in Jardins Efémeros edition IV.—From the Foreword by Raquel Castro
Invisible Places | Sounding Cities took place July 18-20 in Viseu, Portugal. In addition to WFAE endorsement, the Mayor of Viseu – Cà¢mara Municipal de Viseu, the annual Jardins Efémeros (Ephemeral Gardens) arts festival, and Escola Superior de Educação de Viseu, among others. Keynote speakers were Jean-Paul Thibaud, Brandon Labelle, and Salome Voegelin who explored an integrated, holistic approach to understanding and resolving current and future concerns in urban planning, architecture, and sound as a public art form. Francisco López was the featured artist. Exquisite sound installations and audio art works were integrated into the public spaces of Viseu, made available as the Sounding Cities complement to the symposium.
---