Night Out in the Parks 2017 Programming & Summer Soundwalks
For the second summer in a row, MSAE participates in the Chicago Park District's "Night Out in the Parks" summer program that brings "cultural events to neighborhood parks throughout the city". This summer we had an array of thematic soundwalks led by our wonderfully talented team of teaching artists. All soundwalks were supported by fellow NOITP interns and Program & Event Facilitator, Sean Heaney of Inferno Mobile Recording Studio.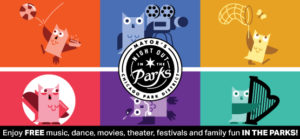 Amanda Gutiérrez led a bilingual (English and Spanish) "Sonic Taste of Chinatown" soundwalk on May 6th, in the near south side neighborhood where the sense of taste and hearing were activated through the personal narrative of Amanda, a Mexican immigrant whose family history is linked to Chinese culture.
Eric Leonardson with the support of the Calling Frog Survey Chicago led the "Calling Frog Soundwalk" on June 17th and 24th at West Ridge Nature Preserve where he provided an introduction to frog calls and their presence within the West Ridge soundscape. Eric also led, a much anticipated, "Singing Insect Monitoring Soundwalk & Training" with Chicago's Singing Insect Monitoring Program on July 28th at the North Park Village Nature Center. This event was part soundwalk and part citizen science training in an effort to collect data on Chicago's singing insects.
Norman Long led "Many Sounds: Listening to Washington Park" at the DuSable Museum in commemoration of Gwendolyn Brooks and Margaret Burroughs' centennial celebrations. Norman also recounted the significance this space once held for longtime Chicago jazz player, poet, and philosopher, Sun Ra.
Sara Zalek and Norman Long led "Between the Wind and the Ground" soundwalk at the newly opened Big Marsh park on July 29th. The soundwalk focused on movement that highlighted the space's history as it has evolved from a former grey dump site to a natural area and recreational bike park. Each artist performed an improvisational piece that bore witness to the revitalization of the park's natural areas.
Lindsey French led "Tangles and Flows" at Ping Tom Park on August 6th. Lindsey's soundwalk focused on connective listening and plant communication.  As mostly sessile beings, plants nevertheless actively express themselves through growth and position.
Anthony Janas led "A Prairie in the Lake" at Northerly Island on August 13th with two handmade hydrophone listening stations, which gave listeners an opportunity to eavesdrop on the unheard sounds of Lake Michigan. Attendees were also given the opportunity to record what they heard to share with friends and family.
In addition to the NOITP summer soundwalks, MSAE led other soundwalks around the Chicagoland area including a night soundwalk at Wauconda Area Library and a private soundwalk for SoHo House Chicago members. Planning is underway for MSAE's third 2018 Summer Soundwalk Series.
Contact us with any of your ideas and suggestions for future programming in the parks!

---