Megalópolis sonoras. Identidad cultural y sonidos en peligro de extinción. Mexico 2009
Report by Eric Leonardson
Megalópolis sonoras. Identidad cultural y sonidos en peligro de extinción (Sound Megalopolis: Sounds in danger of extinction) took place from March 23-27, 2009 at the gorgeous Fonoteca Nacional in the Coyaocán area of Mexico City. The site of the Fonoteca Nacional is the former home of the great Mexican poet Octavio Paz (1914-1998) and now serves as the archive of all significant audio recordings relevant to the history and culture of Mexico. It is a public access facility with a large, sophisticated lab for the collection, restoration, and preservation of recorded sound. This 5-day conference brought the founders of the World Soundscape Project together with the World Forum for Acoustic Ecology (WFAE) and the Mexican Forum for Acoustic Ecology, including a host of new people to the field from around the world.
I attended the conference with Jesse Seay who, in addition to being a member of the World Listening Project, is the director of Favorite Chicago Sounds and a producer at Vocalo.org.
The national media were massed in the Fonteca's garden for the inaugural ceremony when I arrived. This conference is possibly one of the most newsworthy acoustic ecology events to date. Among the notables speaking were Dr. Lidia Camacho, General Director of the Fonoteca and founding member of the Mexican Forum for Acoustic Ecology, and Nigel Frayne, President of the WFAE and chair of the Australian Forum for Acoustic Ecology (AFAE).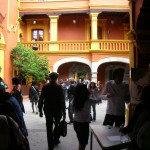 Sound Megalopolis featured numerous speakers and diverse perspectives: too numerous for me to describe them all in one blog post. Each day of the conference featured a keynote presentation followed by close to a dozen papers and demonstrations. The first keynote was by Derrick de Kerckhove from the University of Toronto who talked about his encounters with harmonic sound and society through his travels to many places. On Tuesday Barry Blesser, author of Spaces Speak, Are You Listening? Experiencing Aural Architecture gave his highly informative lecture about biological basis of behaviors in sound, space, and architecture: coining the term "eventscape" to build on the ideas and phenomena of the soundscape. Barry said the talk had a lot of new ideas, and he told me he will be posting info about on his website soon.
R. Murray Schafer, author of Tuning of the World, among other books and efforts that have established the social, scientific and artistic concept of acoustic ecology, gave his keynote Wednesday. Sabine Breitsameter, on of Germany's foremost writers and proponents of experimental radio arts gave the intriguing keynote "Sound and Music: A Relationship with a Questionable History" on Thursday morning. Christian Hugonnet's gave a highly entertaining yet pedagogical talk and demonstration on Friday morning on sound, hearing, and listening related to La Semaine du Son.
In addition to the keynotes, I'll mention a few of the numerous presentations. Andrea Polli spoke on her sonification work in the Antarctica, Luz Maria Sanchez spoke on sound maps, Carla Teixeira spoke of fences in Australia (reference to Jon Rose's "Great Fences of Australia Project", Constantinos Stratoudakis discussed his research in reconstructing soundscapes in virtual space based on the data mapping of actual soundscapes. Andreas Mniestris spoke on soundscape studies in Greece where there 61 members in their highly active AE group. Jay Needham is a sound media artist who teaches at Southern Illinois University, in Carbondale. His work here in the Midwest and in Panama Canal poses exciting prospects for acoustic ecology across the continents of North and Central America.
The WFAE board meetings were held at the same time as the workshop tutorials. I can only report that there those were "Towards a Listening Culture" conducted by Canadian composer, author, music educator, and founder of the World Soundscape Project, R. Murray Schafer; "The Hearing Conservation Workshop" by Benj Kanters from Columbia College Chicago, and "Listening! Discovering sounds around you" by Prof. Dr. Marisa Trench de Oliveira Fonterrada from Sao Paulo, Brazil.
I am interested to know how many people attended the conference. Having attended all the WFAE board meetings except for Friday's, I did learn that the affiliate international chapters of the WFAE have grown from two to nine. As I mentioned on the World Listening and phonography Yahoo Groups, the recently formed Greek acoustic ecology group is very active with perhaps as many as 61 members.
Watch for my brief Mexico Conference Observations in the WFAE Newsletter.
Eric Leonardson, March 29, 2009
---