Call for Participation: H2O Virtual Symposium
Call for Participation: H2O Virtual Symposium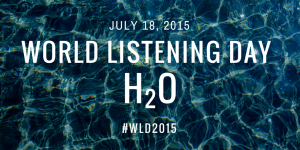 World Listening Day 2015 will include the World Listening Day H2O virtual symposium on July 17-18, hosted on WaterWheel, an electronic publication, and hundreds of events taking place across the globe.
World Listening Day is co-organized by the World Listening Project (WLP), the Midwest Society for Acoustic Ecology (MSAE) and Biosphere Soundscapes. For more about this year's H2O theme  please visit mwsae.org/world-listening-day-2015-h2o/. "Ž
We seek contributions to the symposium for presentation via WaterWheel at http://water-wheel.net/taps/page/814
Please join in the World Listening Day 2015 activities. Email worldlistening@mwsae.org about your plans and be sure to include "World Listening Day" in the subject line. Or, fill out the World Listening Day 2015 online participation form.
Use the hashtag #WLD2015 to connect with other local and global groups participating in the World Listening Day 2015: H2O and get involved.
Thanks!
---